The never-ending debate: indoor training versus outdoor cycling. Some love taking it inside, some hate it. But most coaches recommend a mix of the two to achieve maximum gains. With lockdown still a major factor in how we train, there has never been a better time to get set up with turbo trainers.
There are endless benefits to having a turbo as part of your training regime. Here are the highlights:
It's far more time-efficient
The single biggest benefit of training indoors is time efficiency. Even on a flat ride, 10% of your time on the road is spent freewheeling. On a hilly ride when you add in descending time, it can be up to 40%. Turbo training is more intense because there's nowhere to hide. 
The WAHOO KICKR allows us to fit more quality work into a shorter time, which is a major positive for the time-constrained individual. Attach your bike to the core and use the app to set a course and away you go! The Wahoo KICKR gives the most realistic ride possible from the comfort of your own home. When indoors, every second of your training session is spent placing the exact desired force and workload through your pedals. Outdoor riding, on the other hand, can result in as much as 30 to 40 per cent of the time spent producing little if any power at all, due to downhill slopes and traffic lights.
Wahoo is one of the most talked-about brands when it comes to cycling and Turbo Trainers. Thankfully, we are all stocked up!! We have plenty Wahoo Kickrs in store, along with a range of other Wahoo Products, readu for next day, nationwide delivery.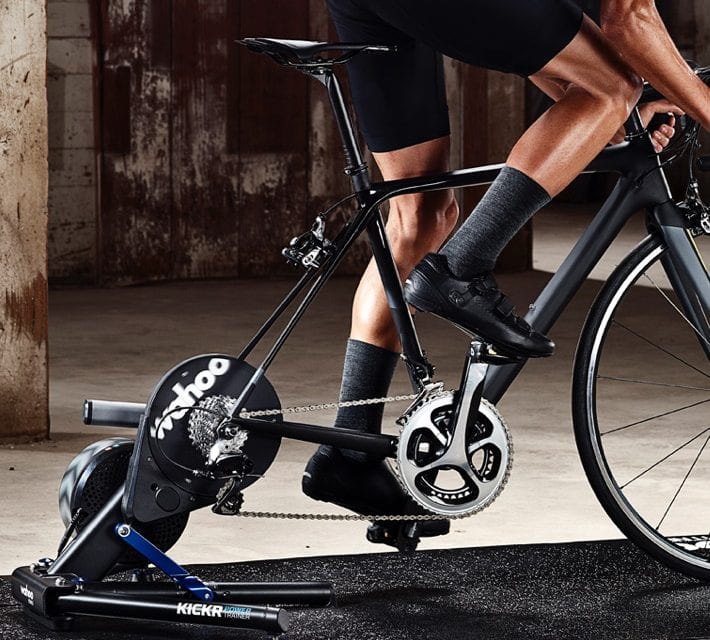 It's more convenient
Turbo trainers also offer the benefit of staying out of conditions that can be plain unsafe during a British winter.
You're going to stay safe and well – less susceptible to catching colds, flu and bugs, which no-one wants – as long as you keep your turbo setup clean.
Additionally, you're likely to be more popular with the family. If you head out on a two to three hour ride, that can take up half your day, whereas a quality hour on the turbo will do the same – if not better – job for you and you can get back to the family commitments. You can almost be forgiven.
It's more interactive than ever
The days of sitting and spinning on the turbo while staring on the wall are long gone. With the rise of new interactive platforms like Zwift, and subscriptions services like TrainerRoad, as well as the software packages provided by smart trainer manufacturers, you can almost literally be transported away to a far away place to do your turbo session.
Why Shop with us??
Here at Adrenalin, we stock nothing but the best quality turbos, from all the top brands, including:
These brands are experts in their field when it comes to producing High Quality equipment, to bring your cycling world indoors.
We stock everything from Wheel-On turbos, for those looking to dip their toe in the world of indoor cycling, such as the Saris Mag+, all the way to the top of the range Direct Drive devices, such as the Wahoo KickrCore, Saris H3 and Elite Direto XR. for the established cyclist, looking for a highly realistic training experience.
We have one of the biggest selections of Turbo Trainers in the country, all available in store or online, READY TO SHIP for Next Day Delivery.
We also have experts available in store, over the phone or via our social media pages, to answer any queries you may have.
To help you get all the information on these top quality turbo trainers, we have put together some Video edits on two of our favourites, the Wahoo Kickr Trainer and the Elite Direto XR
Wahoo Kickr: https://www.youtube.com/watch?v=6WUH4kW9FYs
Elite Direto XR: https://www.youtube.com/watch?v=XmPOBdWgP1s
So what are you waiting for? Get in touch with us today to make your dream Turbo Trainer setup a reality.
Browse the full range for yourself at https://adrenalinsports.ie/collections/turbo-training
We have some great deals and offers on Direct Drive Turbos, 
 We are also offering a free Wahoo Mat worth €80 with every Wahoo Core trainer sold.